Experience and Exactness
If you want the highest quality surface for your rolls, come to Rockport Roll Shop. Our highly trained technicians use ultra precise machines to grind your rolls to the exact specifications required. We check and recheck surface quality using our quality checklist to make sure the job is done right every time. We know that a damaged or misshapen roll means your business loses money, so we take pride in creating the most accurate surface possible.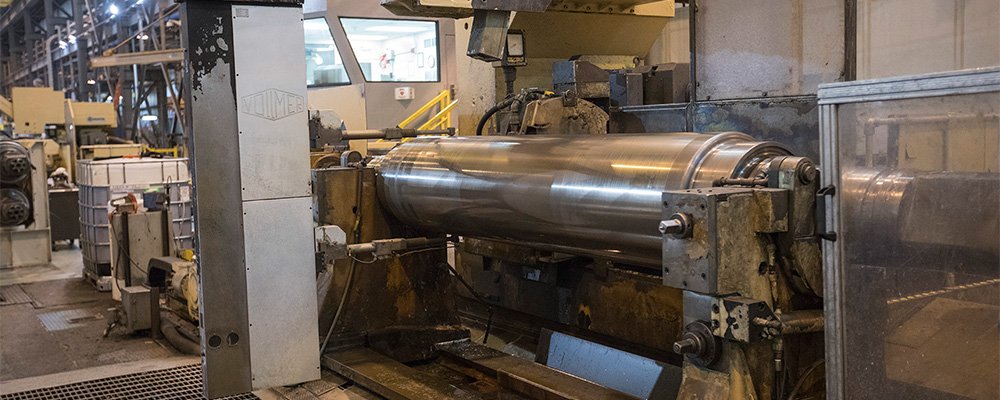 Precision Accuracy
We use computerized grinding systems and measurement arms to create the most accurate roll based on your specifications. Our technicians are highly trained to return your roll to its original standards for surface quality and roundness. Rockport Roll Shop can even handle custom-shaped rolls if necessary. Our partnerships through CORE's global network give us access to the latest technology, training, and innovations in the industry.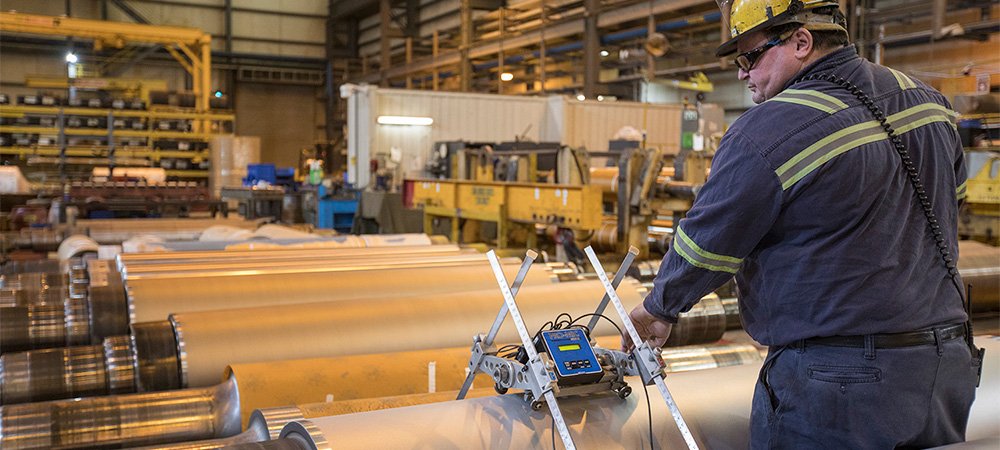 Inspect and Re-Inspect
Rockport Roll Shop inspects rolls more often than anyone else in the business. Our inspection systems help us detect any underlying bruises, cracks, or flaws that a visual inspection might miss. We check and recheck surface quality using the Purchase Material Request (PMR) from our Customer Specifications and enter them into our Roll Shop Management System which helps us monitor the processing of customer rolls to ensure that our customers specifications are being met. After the entire inspection process is complete, we send every customer a report so they know their roll has been processed to the correct specifications. Download sample specifications and a complete roll process report here to learn more about the details of our inspection process.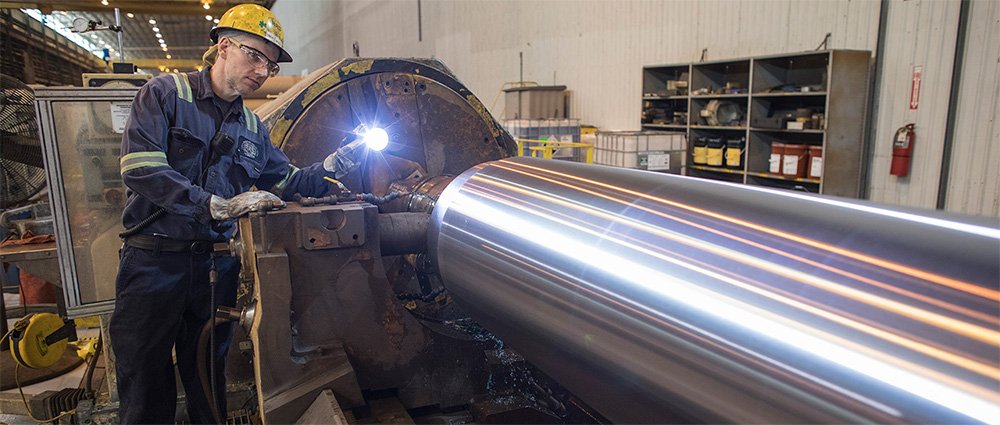 Specifications
Our shop can grind rolls with the following specifications:
| | | | | | |
| --- | --- | --- | --- | --- | --- |
| GRINDER | #1 | #2 | #3 | #4 | #5 |
| Supplier | Herkules | Herkules | Herkules/KPM | Herkules/KPM | Cincinnati |
| Model | WR | Combi | Combi | (Farrel) W/R | leveling rolls |
| CNC | HCC | HCC | HCC/KPM(5) | HCC/KPM(5) | |
| Date of erection | 1998 | 1998 | 2001 | 2004 | 2014 |
| Revamper | – | – | – | KPM | CGS |
| Date of last revamping | same | same | same | same | same |
| WR/BUR/Combi | WR | Combi | Combi | W/R | leveling rolls |
| Annual max. capacity | 6000 | 6000 | 6000 | 6000 | 6000 |
| BED | | | | | |
| Bed type | Standard | Standard | Standard | Self Rigid | N/A |
| WORKING RANGE | | | | | |
| Max. diameter | 800 mm | 1500mm | 1550mm | 1143mm | 152mm |
| Min. diameter | 100 mm | 50mm | 50mm | 100 mm | 12.7mm |
| Max. overall piece length | 5000 mm | 6000mm | 6000mm | 6705mm | 2032mm |
| Max. roll weight | 8000 kg | 54431kg | 54431kg | 54431kg | 181kg |
| HEADSTOCK | | | | | |
| Automatic roll coupling | YES | YES | YES | YES | NO |
| Automatic driver coupling | YES | YES | YES | YES | NO |
| ALIGNMENT OF ROLL | | | | | |
| Alignment of roll | CNC | CNC | CNC | CNC | Manual |
| STEADIES | | | | | |
| Min / Max diameter | 100/400 mm | 200/500 | 200/500 | 200/559 | 12.7/152mm |
| Lubrication | OIL | OIL | OIL | OIL | N/A |
| Soft loaders | YES | YES | YES | NO | NO |
| GRINDING SPINDLE | | | | | |
| Dynamic wheel balancing unit | MANUAL | MANUAL | AUTOMATIC | AUTOMATIC | NO |
| Lubrication | hydrodynamic | hydrodynamic | hydrodynamic | hydrodynamic | hydrodynamic |
| Speed | 400 – 1200 rpm | 400 – 1200 rpm | 400 – 1200 rpm | 450 – 1200 rpm | 500/1800rpm |
| cutting speed | 45 m/s | 45 m/s | 45 m/s | 45 m/s | |
| wheel size | 915x100x355 | 915x100x355 | 915x100x355 | 915x100x355 | 609x508x305 |
| wheel minimum diameter | 559mm | 559mm | 559mm | 559mm | 432mm |
| Max output | 59 kW | 115kw | 82.5kw | 29.8kw | 29.8kw |
| Carriage X-axis | | | | | |
| Resolution | 0,0001 mm | 0,0001 mm | 0,0001 mm | 0,0001 mm | N/A |
| Drive | backlash-free ball screw spindle | backlash-free ball screw spindle | backlash-free ball screw spindle | backlash-free ball screw spindle | N/A |
| Carriage C-axis / U-axis | | | | | |
| Resolution | 0,00001 mm | 0,00001 mm | 0,00001 mm | 0,00001 mm | N/A |
| Drive | eccentric shaft | eccentric shaft | eccentric shaft | Scissor | N/A |
| Chamfer grinding | YES | YES | YES | YES | N/A |
| Taper grinding | YES | YES | YES | YES | N/A |
| Range on diameter | +/- 5 mm | +/- 2.99 mm | +/- 2.99 mm | | N/A |
| Machine accuracy | | | | | |
| Parallelism | +/- 0,002 mm/m | +/- 0,002 mm/m | +/- 0,002 mm/m | +/- 0,002 mm/m | +/- 0,002 mm |
| Eccentricity | ? | ? | ? | ? | +/- 0,002 mm |
| Roundness | +/- 0,002 mm | +/- 0,002 mm | +/- 0,002 mm | +/- 0,002 mm | +/- 0,002 mm |
| Crowning profile | +/- 0,002 mm | +/- 0,002 mm | +/- 0,002 mm | +/- 0,002 mm | N/A |
| Taper (conical form) | ? | ? | ? | ? | N/A |
| Inspection system (caliper) | | | | | |
| Manufacturer | HCC | HCC | HCCKPM | HCCKPM | N/A |
| Working range | 100 – 800 mm | 300 – 1500mm | 300 – 1500mm | 300 – 915mm | N/A |
| # probes in contact during normal measurement | 2 | 2 | 2 | 2 | N/A |
| Real time measurement (during grinding) | YES | YES | YES | YES | N/A |
| # probes in contact during grinding | 2 | 2 | 2 | 2 | N/A |
| SURFACE CONTROL | | | | | |
| Real time Eddy Current inspection | YES | YES | YES | YES | N/A |
| Manufacturer | HCCKPM | HCCKPM | HCCKPM | HCCKPM | N/A |
| US inspection | NO | NO | NO | NO | N/A |
| Manufacturer | HCC | HCC | HCCKPM | HCCKPM | N/A |
| Roll defect control | NO | NO | NO | NO | N/A |
| Manufacturer | Sarclad | Sarclad | Sarclad | Sarclad | N/A |
| Other equipment | | | | | |
| Grinding wheels static balancing unit | YES | YES | YES | YES | NO |
| Wheel dressing device | YES | YES | YES | YES | YES |
| Grinding fume exhaust + filtration | NO | NO | NO | NO | YES |
| Vibration measurement | YES | YES | YES | YES | NO |
| FILTRATION UNIT | | | | | |
| Magnetic separator | NO | YES | NO | NO | YES |
| Paper filtration | YES | YES | YES | YES | YES |
| Other filtration type | YES | YES | YES | YES | NO |
| Grinding fluid concentration | 4% | 4% | 4% | 4% | 5% |
| Oil separator | NO | NO | NO | NO | YES |
| Exhaust unti for rubber rolls grinding | NO | NO | NO | NO | NO |
| Oil mist filter | NO | NO | NO | NO | NO |